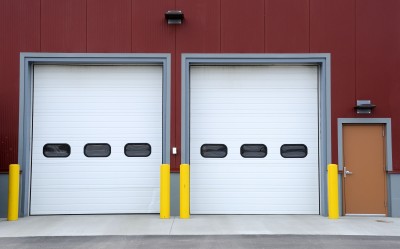 When the business owners of Grants Pass need service of any kind for their garage, service or fire doors, it is the knowledgeable and experienced staff of American Industrial Door that they call most often. The expert team of technicians at American Industrial Door have been installing, repairing and maintaining garage doors for over 25 years and we plan to continue for at least another 25. Commercial and industrial doors need to be made stronger and more durable than residential doors because they are put through far more work each and every business day. To have a door that can last as long as you need it to, it is not only important to choose the right door but to also have it installed by experienced professionals who care about the safety of your employees and customers that come in contact with the door. At American Industrial Door, we are proud of our reputation in the business community of Grants Pass and strive to continue to earn your business with every job we do.
When you trust in the professionals of American Industrial Door of Grants Pass, you are relying on a team that will understand your business needs perfectly and find you the door that you want and need to go about running your business successfully. We have installed all different types of internal and external doors, in varying degrees of sizes and thickness and we are confident we will find the door that is perfect for your business. A few of the types of doors we specialize in are:
• One Piece and Sectional Garage Doors. These are a solid or sectional type of door, made to swing up and then be secured back into the garage or work area. These are not as common as they used to be, but are still often found in older workspaces.
• Roll Up Garage Doors or Service Doors. These doors are quite common and are designed to roll up and be stored right above the opening to the work space. They are often installed in places that separate inside workspace from outside workspace.
• Aluminum Garage Doors. These doors can give your work space more visibility and an increase in light, allowing them to be useful in workspaces that use both inside and outside spaces. They can be used strictly as external doors but are also used as partitions in some office spaces.
• Counter Doors. These doors are internal partitions that are lightweight and made to easily be open and closed over a counter top and to close off smaller workspaces when needed. They are often used in pharmacies and concession stands.
• Security Grilles. These doors are used to simply show that an area is off limits or closed, as they do not completely close off a space. They are made entirely of slats to allow complete visibility. They are able to slide side to side or up and down, making them quite versatile. They are often used in malls and schools.
COMMERCIAL BRANDS AND SUPPLIERS
Wayne Dalton – www.wayne-dalton.com
Porvene Doors – www.porvenedoors.com
Cookson – www.cooksondoor.com
R & S Manufacturing – www.rsdrprod.com
QMI Security Shutters – www.qmiusa.com
As a family owned business ourselves, we understand what other businesses look for when they work with another company. At American Industrial Door of Grants Pass, we prefer doing business with companies that have integrity and honesty, consider our needs important and have the knowledge and skill to get the job done safely and correctly the first time. If that is what we hold important to other companies, you can be confident we expect nothing less of ourselves in our business endeavors. Our expert team of technicians are licensed, bonded and insured so that you can rely on the fact they will work with the safety of everyone in mind. We always offer our customers an explanation of the work to be done and what the cost will be, so that you know before the work starts what your business investment entails. We understand that the safety and success of your business may be on hold until you have the proper door installed or yours repaired so we will make you a priority. At American Industrial Door of Grants Pass, we offer same or next day service and emergency service 24 hours a day